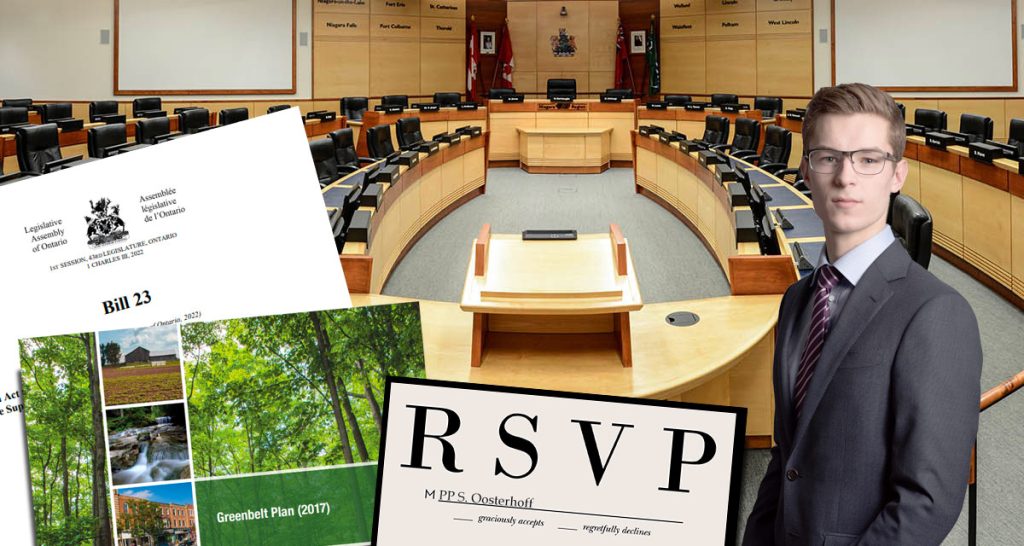 Niagara West MPP Sam Oosterhoff decided to rebuff the invitation last year from Town Council to make a guest appearance and answer questions on Bill 23 and the Greenbelt. It now seems that Regional Council wants to take its turn in having the MPP make an appearance before them to answer questions on the contentious "More Homes Built Faster Act".
A resolution was passed at Thursday night's Regional Council meeting to have Chair Bradley invite MPP Oosterhoff to their chambers to answer questions about Bill 23. While the original motion centered more around environmental concerns, it was simplified to the following:
"WHEREAS we recognize the need to problem-solve and create immediate solutions regarding the affordability of homes in the Niagara Region; we also recognize the importance of continuing the work to protect our environment as noted in Niagara's Official Plan, approved by the Provincial Government and received November 4, 2022;

NOW THEREFORE BE IT RESOLVED:

1. That Regional Council DIRECT the Regional Chair to invite MPP Sam Oosterhoff to appear before Regional Council to speak to the legislative changes in Bill 23 and provide Regional Councillors the opportunity to ask questions of MPP Sam Oosterhoff regarding the contents of Bill 23."
The motion passed with a healthy majority, with only Councillors Foster, Gale, Insinna, Junkin, Siscoe, Sorrento and Steele voting against it.
Regional Council also indicated the possibility of a workshop at a later date on Bill 23 based on Oosterhoff's participation. With that, it should be interesting to watch if the MPP decides to show at Regional Council and talk about his government's legislation or pulls another no-show.