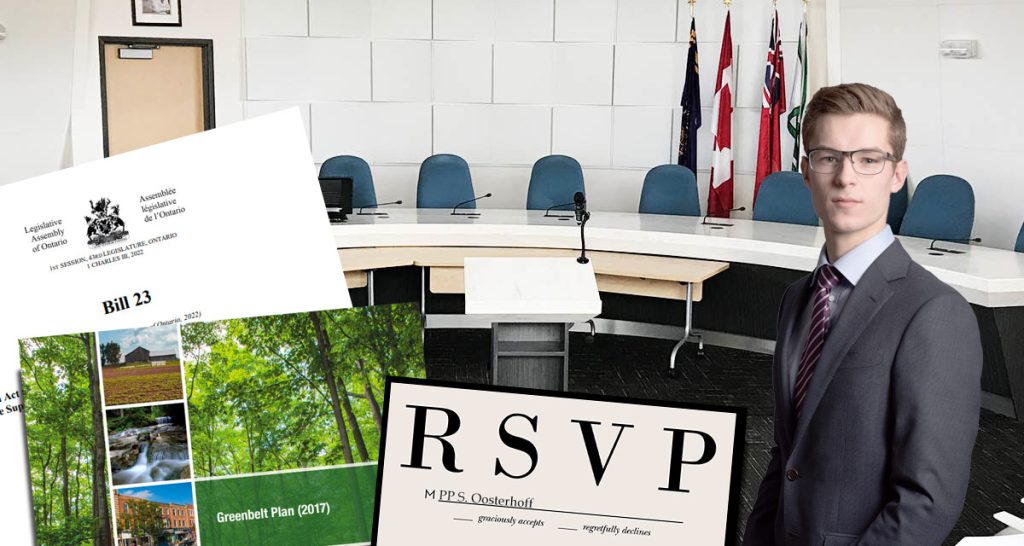 Members of Council got straight to the point on Monday by fast-tracking a motion at the Committee of the Whole inviting our Niagara West MPP Sam Oosterhoff to Council in regards to the proposed Greenbelt changes and the much-panned Bill 23. Like many of us, Members of Council have a whole lot of questions that need to be answered by our Provincial representative.
The Rules of Procedure regarding the Notice of Motion which would have delayed discussion another two weeks, were suspended by a unanimous vote of Council thereby putting the issue onto the floor.
The Motion
Here is the motion as put forth by Councillor Freake:
Whereas Bill-23, The More Homes Built Faster Act, needs to be justified and explained to the residents and taxpayers of the Town of Grimsby in more detail especially as it relates to the potential negative financial impact to Grimsby's taxpayers;

And whereas Bill 23 will also impact Grimsby's protected greenbelt lands by removing the tracts of lands located at 502 Winston Road (14.3 acres) and Kelson/Oakes Road, (74 acres) from the Greenbelt, which goes against the wishes of Council and Town of Grimsby and its residents;

And whereas there are numerous unknown factors related to the removal of these lands such as the planning and development process, funding of extra costs, additional staffing, impact to infrastructure and stress on floodplains/flooding;

And whereas it's incumbent on our provincially elected officials, who voted in favour of Bill23, to justify to the constituents of their respective Electoral Districts, which are also the same constituents who elected the members of Grimsby Council, how Bill-23 is good for Grimsby.

THERERFORE BE IT RESOLVED that a formal invitation should be dispatched to our local Provincial MPP, Sam Oosterhoff, asking him to attend our next Council Meeting to explain to Council and the people of Grimsby the financial and environmental benefits, if any, to The Town of Grimsby;

AND FURTHER for the purposes of, and in preparation of the acceptance of Councils invitation to MPP Oosterhoff, that Grimsby's Planning and Financial staff should analyze and report the financial and environmental effects and pros/cons to the Town of Grimsby resulting from Bill-23.
The motion basically extends a formal invitation to Mr. Oosterhoff to attend Council to take questions and participate in discussions with the residents. The Town would also present to the MPP what the negative impacts of Bill 23 and changes to the Greenbelt would mean to Grimsby.
Discussion
Councillor Freake in support of his motion stated that the Town needs to know "what is good for Grimsby with Bill 23" as Oosterhoff decided to vote in favour of the legislation on behalf of Town residents. He stated that residents have been marching in the streets with signs, and deserve answers and that a private visit to the MPP's office does not cut it.

Next up was Councillor DiFlavio who was supportive and said "if you can't stand by a decision you've made, and explain it, then what kind of decision is it". He stated that the Province needs to be aware of the financial costs and it looks like there has been no consideration as to the financial impacts of this Bill and decisions about the Greenbelt.
Councillor Charrois echoed the sentiments, saying that the MPP "definitely needs to come and answer our questions, it's the right thing to do". She requested that similar to discussion in Aurora, any property tax increases resulting from impacts of Bill 23 should be clearly indicated on tax bills as a descriptive line item.
The issue of disproportionate harm to Grimsby was raised by Councillor Korstanje, as the Town doesn't have any housing task force or mechanisms to protect residents. She went on to state that development has pushed people out of Town due to rising rental rates and that the issue that needs to be shown and addressed is affordability and not availability.
There was some discussion back and forth on the timeline and research that Town Staff would have to take in preparing numbers in advance of Mr. Oosterhoff's attendance at Council. The Deputy Director of Planning said it would be difficult to prepare an in-depth analysis across multiple departments but that Staff would "do our best" given the time constraints.
Councillor Vardy also emphasized the importance of the MPP to show up and that they did not "need all the data… to be able to register with him, how really upset we are". She said there was urgency "to have him be accountable for the decision he has taken and come before us and hear us out… very directly". In her opinion, the legislation needs to be repealed.
The general consensus appeared to be that a "short and sweet" general summary of financial costs and other implications of the legislation would suffice.
Lack of process in terms of the changes that Province is trying to force on the Town in terms of urban boundary expansion for those Greenbelt lands was also a concern for Councillor DiFlavio. He cited that a normal process includes lots of consultation, including with the public and that the planning process needs to be as open and transparent as possible. DiFlavio said this was especially important for those who live in the areas that will be impacted by the proposed Greenbelt changes and that will form an important part of discussions Council wants to have with Mr. Oosterhoff.
The Vote And Next Steps
The motion, as put forward, was approved by Members of Council.
Although it still has to be ratified by Council at their next meeting, based on Monday's vote it will pass without issue, then formalizing the invitation for the MPP to show up.
An MPP's Moment of Truth
Given the deflection and refusal to straight-up answer questions relating to Bill 23 and the Greenbelt by Ministers at Queen's Park, the question on whether the MPP will show is the local question. A factor he has to consider is the broad and growing number of voices that are now taking to the streets, both here and across the province in opposition of Bill 23 and the proposed Greenbelt changes.
This is no minor kerfuffle such as his attendance at a family event, contravening COVID-19 requirements, that can be dealt with a minor press statement or template. Voters want accountability of their representatives, and uncomfortable as it may be for Mr. Oosterhoff, he has little choice than to face Council and residents and hear them out.
To add on to the old saying, failure [to show] is not an option. Disregard for the legitimate concerns of residents will no doubt result in a burn-in or lesion on voter memory. Undoubtedly, how Mr. Oosterhoff decides to respond to Council's invitation will, despite it being years away, determine his political relevancy in the next Provincial election and beyond.