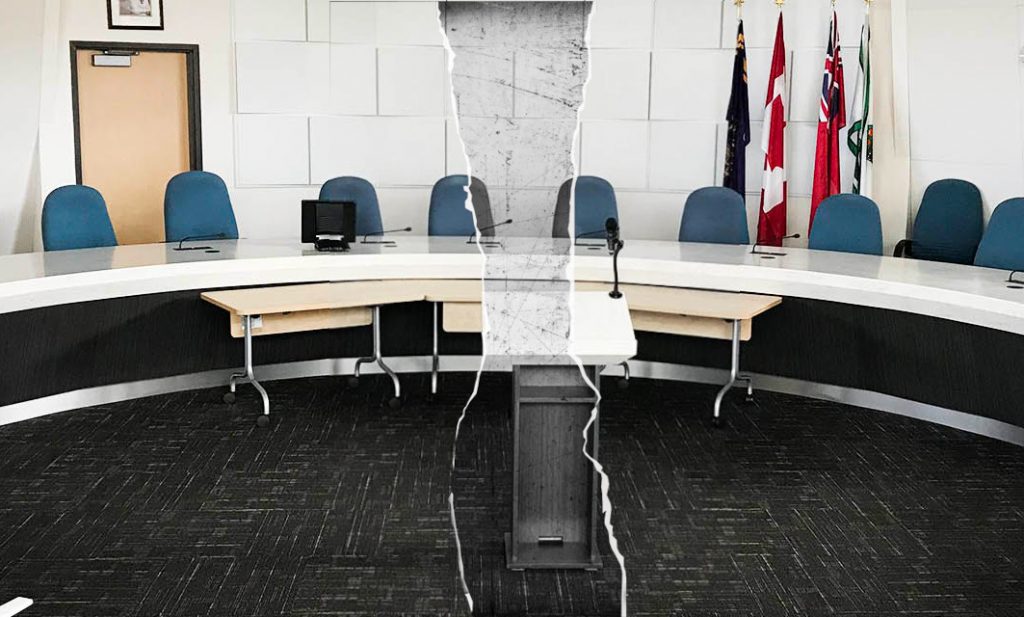 While many readers may already be aware of the divisions and contentious nature that permeated the 2018-2022 term of Council, there is a large group of the electorate who may have read/heard about the "G5" or "G4" and have no idea what this terminology refers to when they see it. If you are not aware what those terms have come to mean and want to satisfy your curiousity… this post is for you.
United – The 2018 Municipal Election
Only two incumbents survived the 4-year job performance review (election) by voters in 2018, John Dunstall and Dave Kadwell. With the exception of those two Aldermen and Jeff Jordan, elected Mayor and who had served years past as an Alderman, the rest of the new Council members were first-timers.
All seemed great on election night (October 22, 2018) at the Grimsby Legion, with eight of the nine members of the 2018-2022 Council celebrating together along with the new Regional Councillor. It was good times… look at those smiles.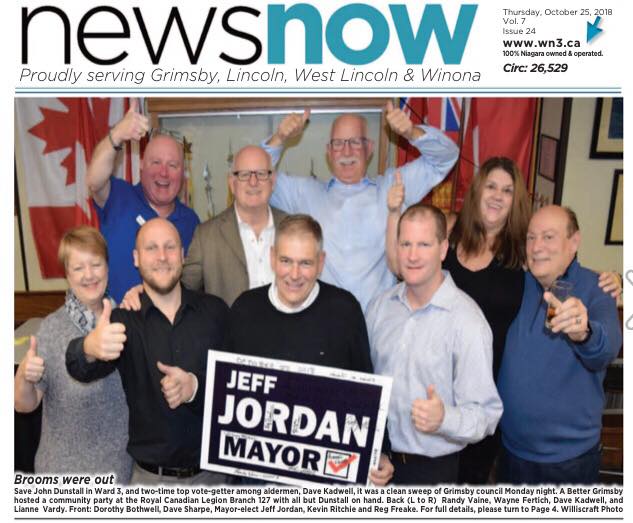 Inaugural Meeting of Council – A Rift Appears
The inaugural meeting of any new Council is largely a ceremonial affair with some minimal housekeeping setting the stage for the next 4 years. The December 3, 2018 inaugural meeting was well-attended and went smoothly until the committees were announced.
When the Committee structure and memberships were announced, Alderman Dunstall showed that he was not happy with his new colleagues that evening and verbally declined his committee appointments (Public Works & Rec Services) in front of a packed Town Hall. He cited he had not been given his "due process", a buzzword which he did not articulate. This led to Aldermen (later Councillors) Freake and Vardy stepping up to the plate to fill the positions Dunstall was unwilling to serve in.
Council of 2019 & Early 2020
The honeymoon more or less continued throughout 2019 and January 2020 with only a few recorded votes, but those tended to be unanimous or not follow any discernable pattern. Some early sign of division was evident when the Region asked Council to reconsider the canned Hospital Corridor Secondary Plan.
The latter part of 2019 also saw the Town bring a new CAO (aka Town Manager) onboard, Harry Schlange, to handle the administrative side of Town Hall as of September 2019.
February 10, 2020 – The "Grimsby Five" (G5) Is Born
Without going into much detail, as it will be covered in future posts, a Special Council meeting was called for February 10, 2020 to discuss an anonymous email and other employment matters that led to the Mayor taking the action of putting the new CAO on "administrative leave" some days earlier.
The controversial motion coming out of the closed session of that meeting stated amongst other things that the CAO was not being investigated or accused of any misconduct; that the Mayor acted without authority; that Council apologized to the CAO; that he could resume his duties and that an investigation would be conducted on any allegations that came up.
That motion was voted on as follows:

YEAS - VOTED TO REINSTATE CAO

Councillor
Ritchie
Ward 1

Councillor
Kadwell
Ward 2

Councillor
Dunstall
Ward 3


Councillor
Vaine
Ward 3

Councillor
Sharpe
Ward 4
The 5-4 vote to reinstate the CAO according to NewsNow left some Staff members in tears. In its coverage of the meeting, the paper coined the "yea" block of votes of Councillors Dunstall, Kadwell, Ritchie, Sharpe and Vaine as the "Grimsby Five".
Given the seriousness of the issue and the public's distaste for that and subsequent similar votes at Council, the name quickly caught on with many residents. With social media and texting shortening our everyday English, this soon became abbreviated as the "G5".
That vote may not have been the first instance of 5-4 voting with the same blocks sitting opposite each other on issues, but it was the first recorded instance of it in the Official Minutes. It was significant due to the subject matter and that it was not an isolated event, it was the first in a pattern of voting that became a permanent fixture in many Council meetings to follow.
Based on the tabulated data from the Town's Official Minutes, this voting pattern surfaced in 81 recorded votes on resolutions ranging from simple procedural matters all the way to serious issues affecting residents and the municipality. That number only considers votes when all nine Members of Council were present.
If you are wondering how many recorded resolutions were unanimous, with all nine Members present… that is 295. Council was not always pitted like two NFL teams at the 50 yard line, but on certain subject matters to be discussed later, they certainly were.
What about the "G4" or the other Members of Council voting as a "block"?
When you have 9 and take away 5, you are left with 4. As a side-effect of the "G5" branding, people looked for a quick way to refer to the remaining Members of Council who voted opposite, thus Councillors Bothwell, Freake, Vardy and Mayor Jordan became known as the "G4".
The "G4"

Mayor
Jordan

Councillor
Freake
Ward 1


Councillor
Vardy
Ward 2

Councillor
Bothwell
Ward 4
Some may attempt to "flip the script" and say that the "G4" are the ones who voted as a block and created a fracture or division, which really does not hold water and is largely contrary to public perception . The obvious fact is in a municipal council of nine members, it is not the minority vote that counts, it is a majority vote of 5 or more that takes the win… the minority becomes irrelevant, their views and opinions become nothing more than a footnote in meeting minutes at best.
Concluding Remarks
Party politics has no place in the municipal arena, yet there is clear evidence that independent thought and decision-making suffered at times in the 2018-2022 term of Council. In upcoming posts you will learn who voted with whom, how often and on what important issues.
With the foregoing in mind, when any candidate talks about "unifying" the divided council, do your research, read the Official Minutes, watch the recorded meetings and decide for yourself who voted for what and helped create that divide they are promising to solve.