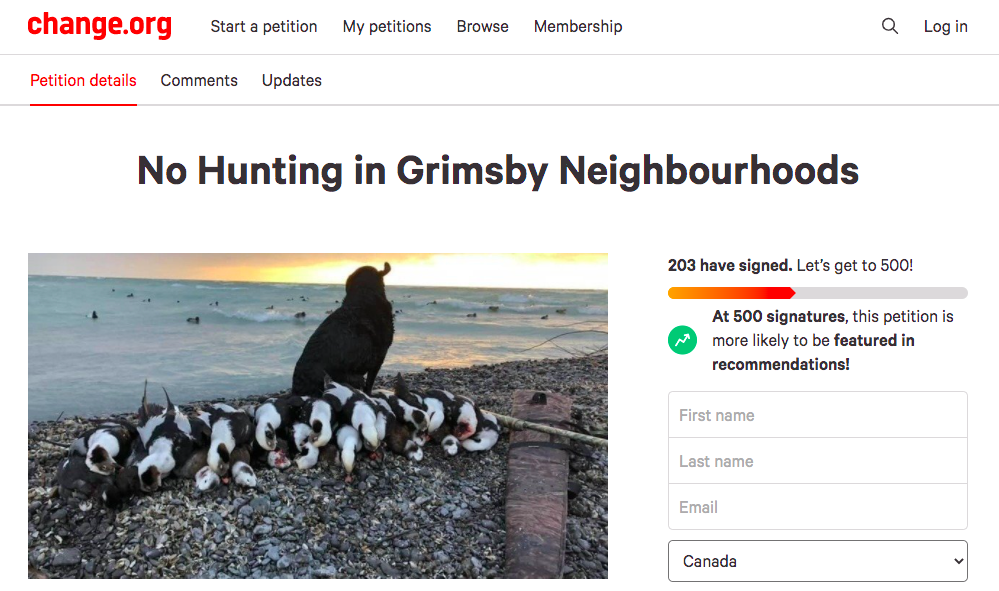 As pointed out in our last post, there has been a big push from the Ontario Federation of Angler's and Hunters (OFAH) to get its 100K+ membership to "voice those opinions at the next council meeting" of February 7th, alongside with an individual petition to keep hunting in Grimsby legal.
Given the amount of resident comment on social media about the issue, a petition has been started asking to restrict hunting and ensure that any future By-law on the Discharge of Firearms in Grimsby has thorough public consultation. That means notifying all residents and holding proper public meetings, not just a few Zoom sessions.
You can read, sign and importantly, share the petition at: https://www.change.org/p/no-hunting-in-grimsby-neighbourhoods
What Else Can You Do?
Just as our previous post, get in touch with Members of Council and let them know your thoughts on the matter.
You can go about it two ways ahead of the February 7th Council meeting:
Email your concerns to Members of Council at the following addresses:

jjordan@grimsby.ca, rfreake@grimsby.ca, kritchie@grimsby.ca, dkadwell@grimsby.ca, lvardy@grimsby.ca, jdunstall@grimsby.ca, rvaine@grimsby.ca, dbothwell@grimsby.ca, dsharpe@grimsby.ca
Speak as a delegation at the Council meeting (electronic participation via Zoom):

https://forms.grimsby.ca/Delegation-request-form

Delegation requests must be received before noon on February 4, 2022.