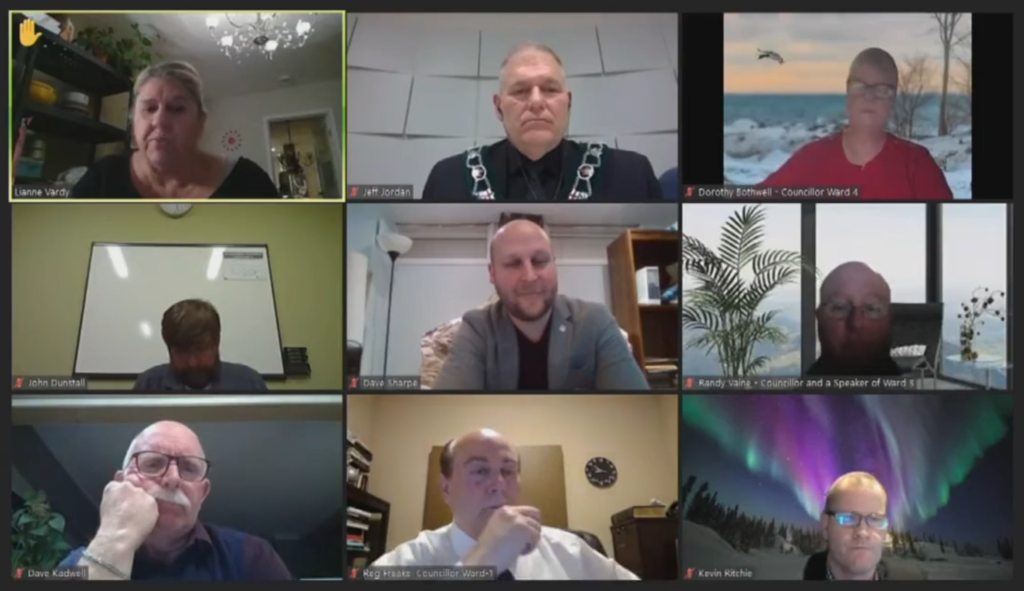 It all seemed to be going too well, with a Council meeting that despite some heavy consideration of "The Woolverton" looked like it was actually going to be short and largely without "incident".
That is until the "Announcements" section, where Councillor Ritchie once again broke the Procedural By-law by further levelling serious allegations against Councillor Vardy. Before getting into the nature of Councillor Ritchie's comments, it's important to remember what "Announcements" are for:

It would be a stretch to say that Councillor Ritchie's announcement falls within the confines of this portion of the Procedural By-law. Although his comments were of a serious nature, what did he say?
Here is the "announcement":
This set off a storm between Councillors, with Councillor Vardy responding to Councillor Ritchie's comments. Not far into her comments, Councillor Sharpe is visibly smiling (as in the post top image), what he was smiling about or thought was humourous is unknown.
A back and forth of "he said/she said" ensued, with Councillor Sharpe later in a very monotone voice putting forth his version of the alleged event:
Re-Opening The Door – The Third-Party Investigation Report
With Councillor Ritchie on Tuesday night rightfully stating that "we should be responsible for our actions, as leader(s) in the community speaking out against behaviours such as these", he has opened questions about the somewhat-forgotten "Third Party Investigation Report" that was quietly swept under the proverbial carpet.
The investigation stemmed after numerous workplace allegations at Town Hall were raised, resulting in a staff member being put on "administrative leave" by the Mayor. In response, five Members of Council voted to remove the administrative leave, even before any investigation had taken place. That action led to several female staff members being moved to tears in the lobby, according to NewsNow.
While the exact allegations or the resulting report have not been disclosed, Councillor Ritchie's reaffirmation of transparency and accountability has re-opened the door to that report.
In order to clear up any lingering misconceptions, perhaps Councillor Ritchie will move a motion to finally make that 2020 investigate report and its allegations public, just as he chose to do so on Tuesday night. He is now committed to the matter.