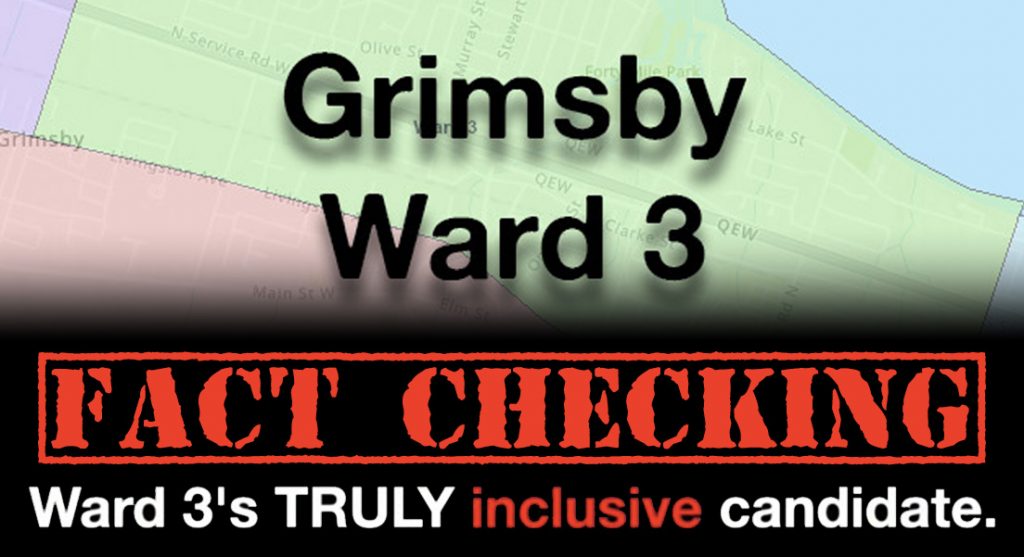 To say that the 2018-2022 term of Grimsby Council was fractured is an understatement. Take the contentious issues, lack of decorum from some Members of Council and amplify that through the use of Zoom meetings and it easy to see how things went off the rails at times.
What residents have called for loud and clear in the next Council is one that is more cohesive and works together well. But that can only happen if the Members of Council you elect possess at their core, decency and mutual respect for others, even in times of disagreement.
2022 Municipal Election Candidates & Campaigns
Most of the 2022 candidates have conducted their campaigns respectfully save the occasional kerfuffle and show good potential to give residents a Council they want and deserve. As with any campaign, politicians and aspiring politicians make bold claims about what they will do or why they are the best choice for voters.
However, beyond the usual commitments to transparency, responsible growth and whatnot, one candidate's bold claim stood out.
The Claim
Duncan Storey, a candidate for Councillor in Ward 3, makes the claim that he is "Ward 3's TRULY Inclusive Candidate". Using a popular Internet search engine, we can find what inclusion exactly means.
Inclusion is defined as "a state of being valued, respected and supported" or "involvement and empowerment, where the inherent worth and dignity of all people are recognized".
With that clarified, it is definitely a big statement to live up to. So let us now put that claim to public scrutiny.
Gibson Street Bridge
The candidate scored some early points on "inclusivity" in the campaign by challenging the Town's "invitation-only" policy for the opening of the new Gibson Street Bridge. Mr. Storey later posted that the Town, according to Mike Williscraft of NewNow, "recanted" and allowed anyone to attend the ribbon-cutting. While his challenge may not have been the only reason the Town changed its mind, it probably did nudge them a bit.
Open Comments on Candidate's Facebook Page
It did not take long for what seemed like an initially positive campaign to turn into a Trumpian-style downward spiral. The initial salvo was fired against his fellow candidate Veronica Charrois on her use of the Integrity Commissioner process on questions of Council conduct and accountability. Fair criticism perhaps, but Mr. Storey's approach could have been better.
About two weeks later this inflammatory post appeared on his campaign page when a new candidate, Jennifer Korstanje, filed her candidacy, also for Ward 3. Charrois and Korstanje co-administer the "Grimsby Community Talk" page on Facebook.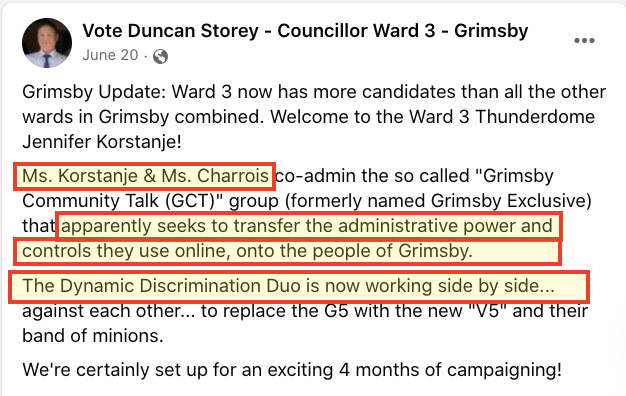 There are at least two very divisive comments there and it is difficult to understand how those can be reconciled with the definition of "inclusive". One would think a true inclusive candidate would "love thy neighbour as thyself".
Private Facebook Comments & Fuelling Division
While residents may have seen the big-green signs or the endless parade of fluffy YouTube ads from the candidate, they may have not seen other aspects of this candidate's online persona… secreted in Facebook "special-interest groups".
After the July 18, 2022 Special Council meeting on the Integrity Commissioner's report on Councillor Sharpe, his friend and associate, Mr. Storey felt it appropriate to disrespect Councillor Freake in one of these groups. If you don't know what "AF" means you can find the expletive definition by clicking here.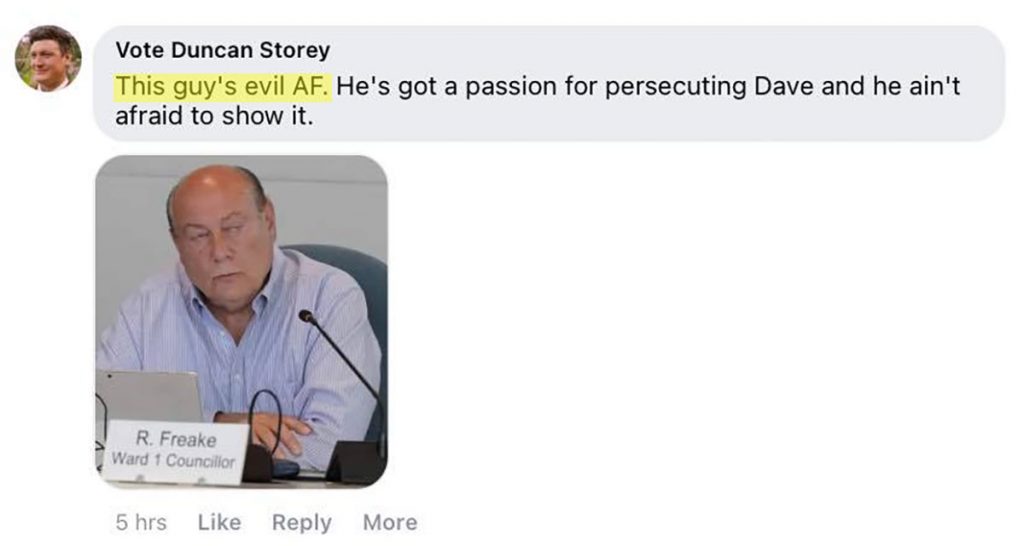 What is more bothersome however, is the "Us vs. Them" comments exhibited behind the scenes, with such comments pointing to his fellow political candidates's pages and saying "this is what we're up against".
And then there is this post in the private group about the resident who was previously the target of online harassment and later filed to run for Council, also in Ward 3: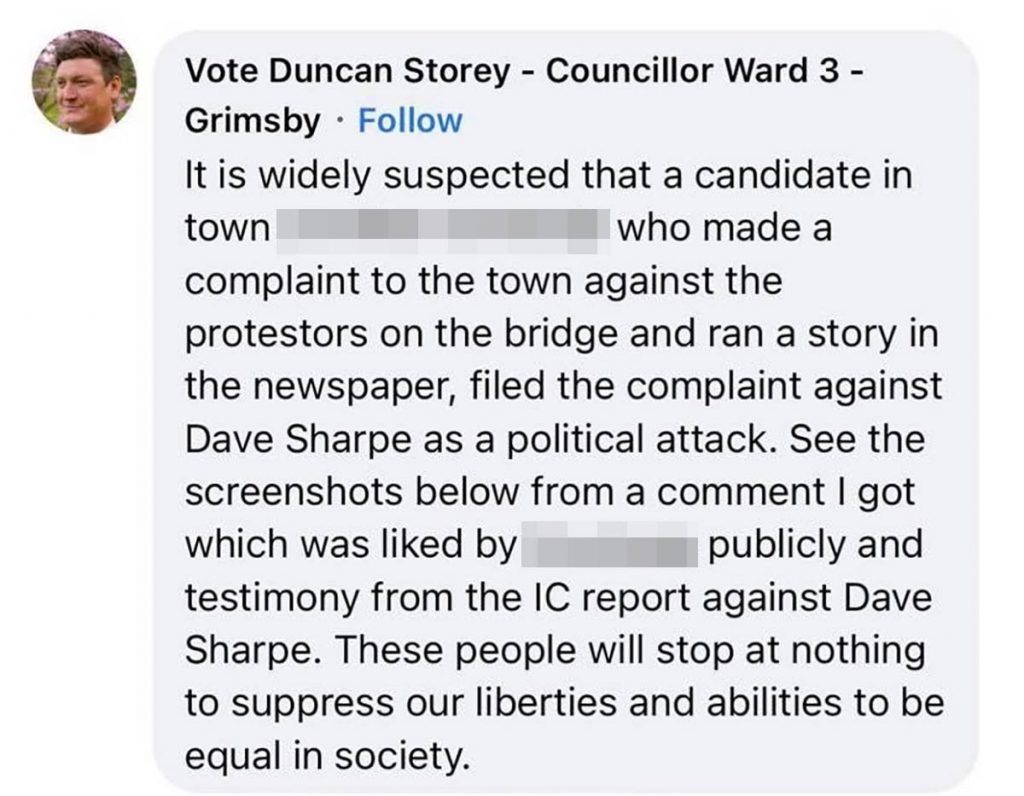 "These people". The overall comment repeats the false narrative that the resident's email was a complaint about those flag-waving on the Oakes Road overpass and makes assumptions about the reasons why an IC complaint was filed.
In another instance, Mr. Storey felt it appropriate to recruit and direct members of a private special-interest group to a Grimsby public community group where a discussion of particular interest to him was taking place.

"You know what to do". Whatever that means, it does not sound very "inclusive" and certainly not full of good intention.
Private Comments on Ward 3 Q&A/Debate & Mike Williscraft (NewsNow)
On September 20, 2022 Mr. Storey invited the members of a Niagara-wide private special-interest group to attend the Ward 3 Q&A/debate being held at the Casablanca Winery Inn on September 28th. As part of that private post, he included the following graphic with "creative writing" used to clearly encourage attendance (pinch to zoom in on mobile):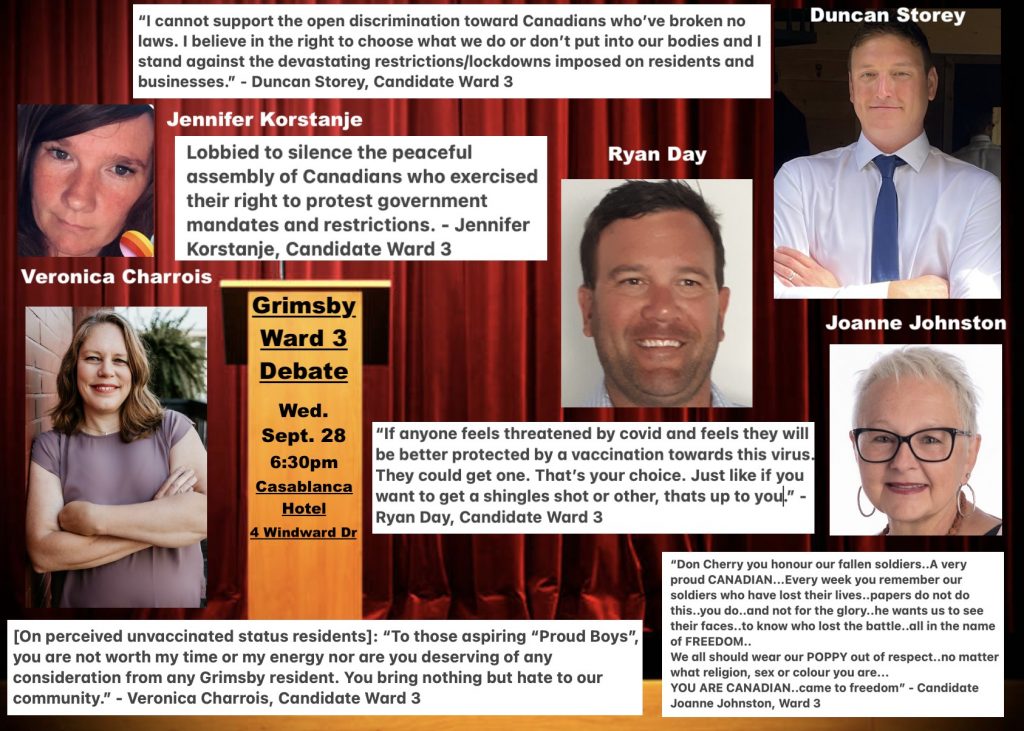 Later, there was what you can call a "difference of opinion" between Mr. Storey and the editor of NewsNow, Mike Williscraft on who should be attending the Ward Q&A/debates.
In the private groups, he posted multiple times and did not hold back. On September 27, 2022: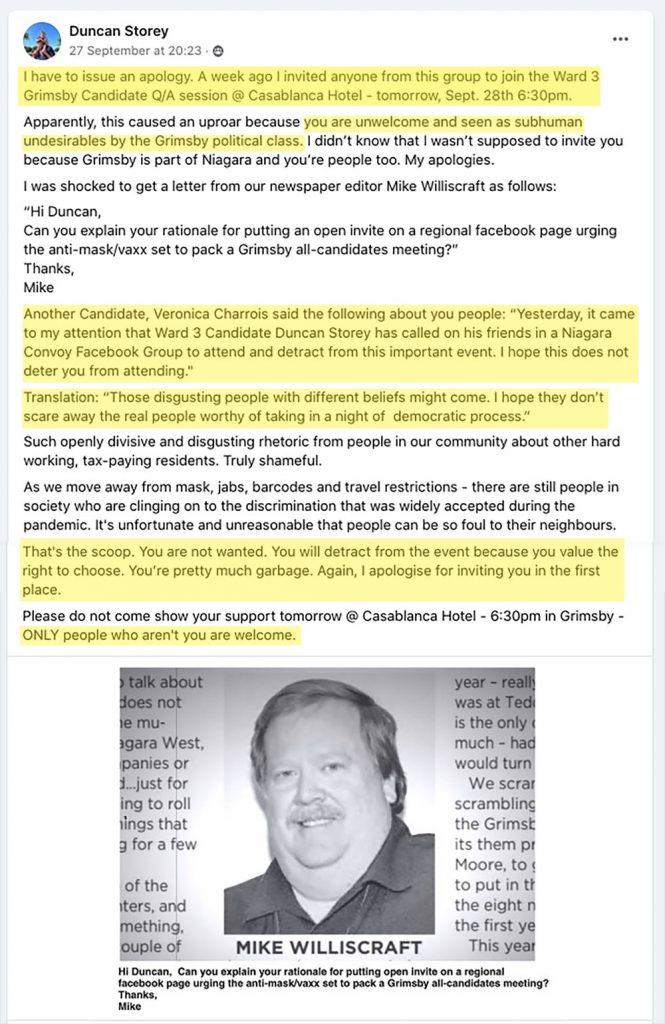 "You're pretty much garbage". What is very egregious and inflammatory are these "interpretations" and "translations", which had the potential to enrage readers of that private group. And as we have seen previously, this kind of approach can lead to residents becoming undeserving targets of harassment.
Here is a sample of the resulting comments, including supplying Mr. Williscraft's public email to the group, and the candidate tagging "special-interest community leaders" (names redacted for privacy) in an attempt to bring more attention to the matter: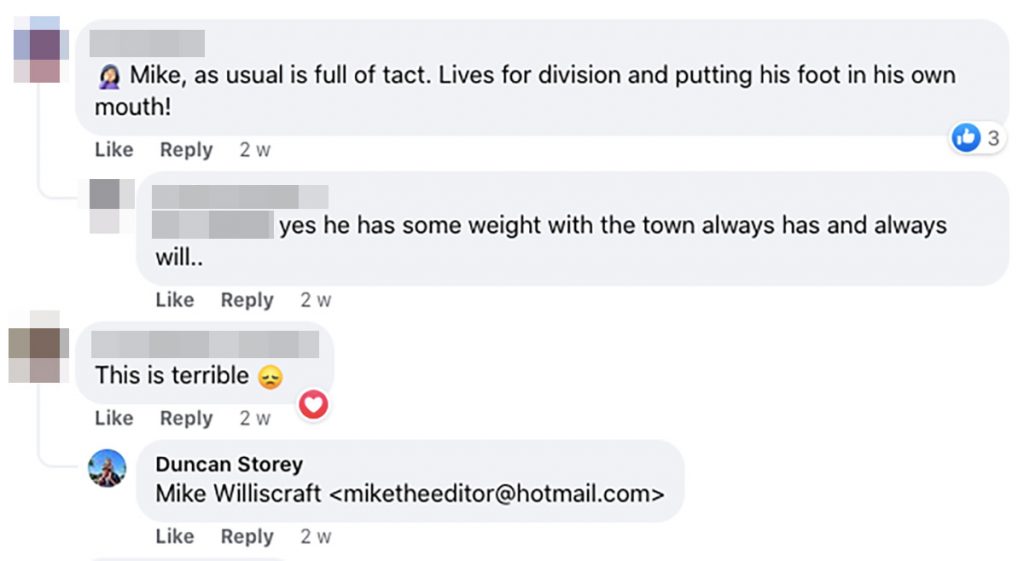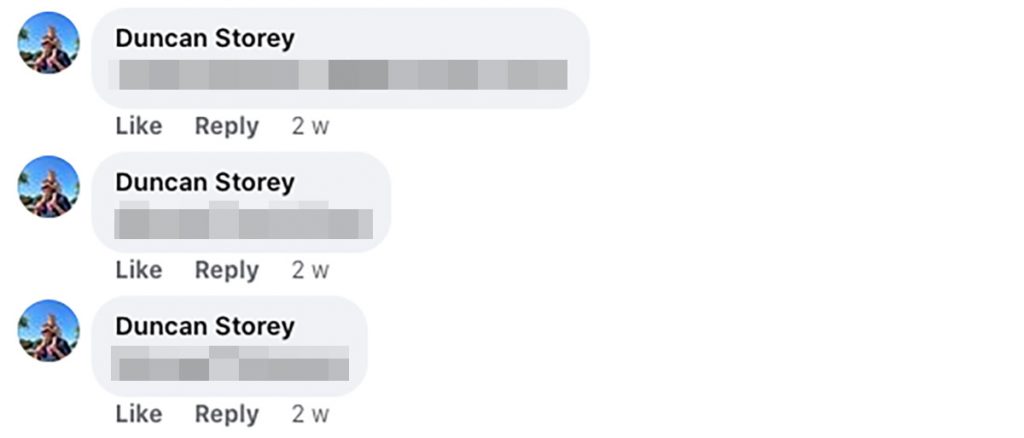 In a subsequent post in the group on October 2, 2022 further criticism of Williscraft ensues in regards to his editorial and use of labels, accompanied with the following graphic: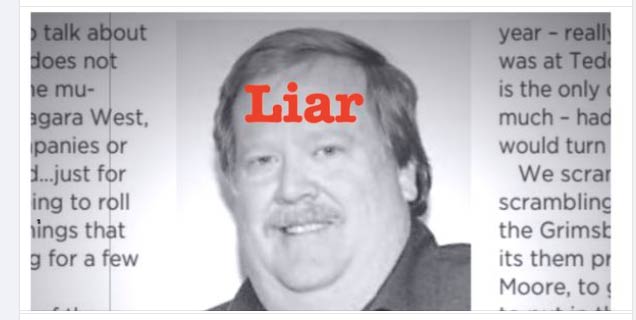 But backtracking a bit, it is his September 29, 2022 post on the matter that really is eye-catching: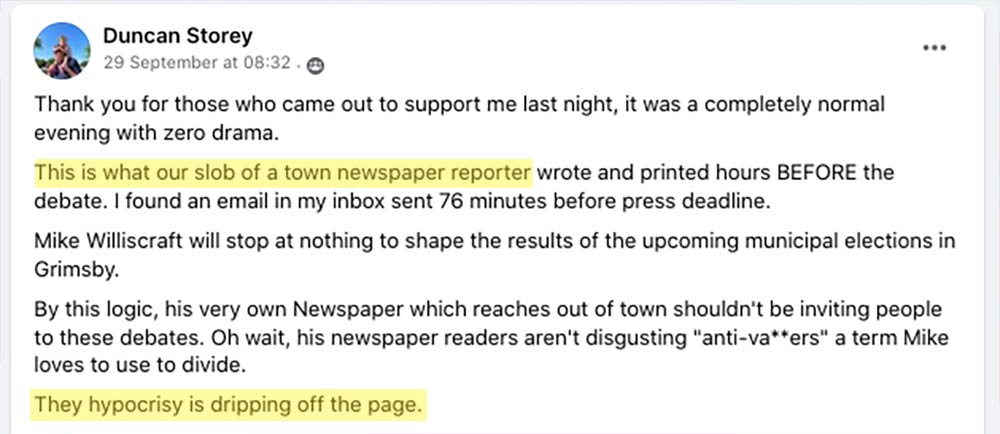 The hypocrisy is actually dripping off that post. There is nothing "inclusive" about targeting and personally attacking someone with body-shaming and humiliation. This is precisely the type of behaviour that residents do not want to see coming from any potential Member of Council.
And What About GCFRG, And You The GCFRG Reader?
Up until the election, not much was heard from Mr. Storey about GCFRG. But after declaring his candidacy, Mr. Storey has been particularly engaged with this site, even going to the point of writing libelous statements. But hey, not everybody will be a fan of this site and its posts, that is understandable.
Now for your final consideration, is his October 17, 2022 comment posted in a Grimsby community group on Facebook: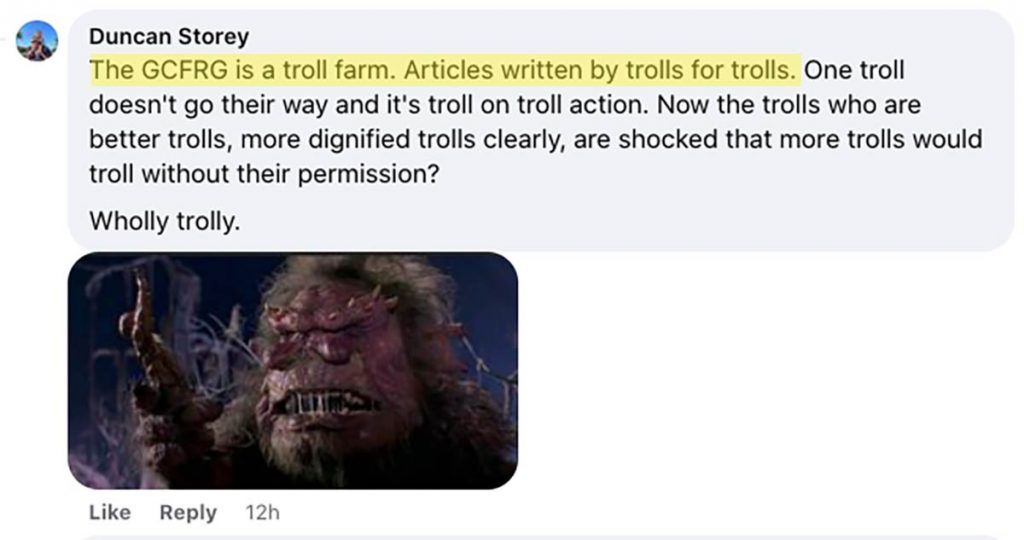 We respectfully disagree with Mr. Storey, no name calling, no bizarre translations or interpretations… we just disagree with that statement and hope you do as well.
Concluding Remarks
Now, remember that inclusion is defined as "a state of being valued, respected and supported" and "involvement and empowerment, where the inherent worth and dignity of all people are recognized".
Given the sampling of evidence, do you think Mr. Storey's campaign behaviour validates his claim of being the "TRULY inclusive candidate in Ward 3″?
You may or may not agree with this answer, but we would say a hard NO. Clearly the type of behaviour exhibited is unbecoming of a potential Municipal Councillor… let alone one that declares themselves as "inclusive".
We will not tell you to vote or not to vote for anybody, that is your decision. But if you want a cohesive, co-operative Council, largely free of the drama of the past four years, look beyond a candidate's charm and smiles and do your research, decide on who you want to represent you and your values… and most importantly, cast your ballot.